"Pride of America" is the only cruise ship sailing to all of the 4 main Hawaiian islands in 7 days year-round!
Immerse yourself in the rich culture, incredible landscapes and delicious cuisine of Hawai`i on this one-of-a-kind 7-day cruise from Honolulu on Pride of America. Where you can explore an island every day of your holiday – from the lush, fragrant vegetation of Kaua`i to the Big Island's dramatic volcanoes and the famous surfing beaches of Oahu. Where you can enjoy overnight stays in Maui and Kaua`i, giving you even more time to discover the best of island living. Where each day is spectacular and every night is legendary. This is how you Hawai`i.
7 Days. 5 Ports. 1 Amazing Holiday.
Pride of America – home of the free. Designed to celebrate her arrival as the first new U.S.-flagged cruise ship in nearly 50 years, this vibrant Americana themed ship is full of choices to occupy your time aboard your Freestyle Cruise. Void of schedules, you'll have ample opportunities to venture about, scoping out the décor, spacious staterooms and regional dishes served in 11 restaurants – or whatever else you feel like doing. Plus, they've got a warm and friendly American crew ready to assist you on your Hawaiian island adventure and make sure your cruise is just that, yours.
Hawaii
It goes without saying that Hawaii is full of amazing places to explore. Take your pick. Active volcanoes, deep, lush canyons, endless beaches. And that's all before the Lu`au begins. Freestyle Cruising lets you be the Big Kahuna on this cruise. Choose what you want to do in ports of call and onboard ship. Plan now or later. It's up to you.
Highlights of this cruise: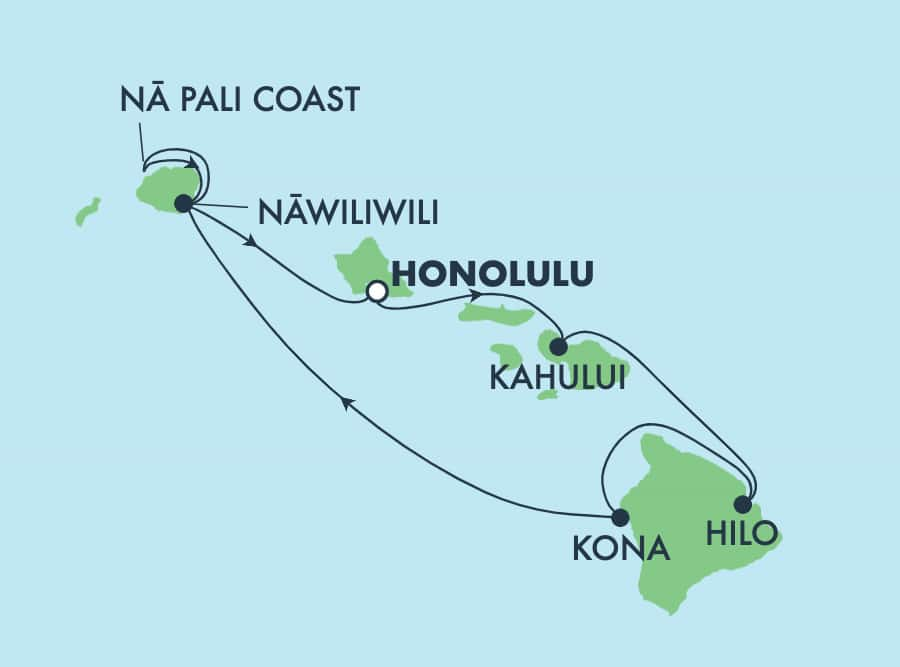 Honolulu
Hawaii's state capital and only major city is a wealth of historic and cultural delights. Take in the view at Pali Lookout and the North Shore. Visit the spiritual home of surfing, Waikiki Beach, then go to Iolani Palace.
Maui (Kahului)
C'mon over to the other side of the island. The drive to Hana is a lot of fun. Golf, swim, snorkel, windsurf or just relax under a swaying palm. Optional tours to Lanai available.
Hilo
See the spectacular Akaka Falls, a cascading waterfall of 422 feet. The Big Island's most tropical town is nestled between Mauna Kea and Mauna Loa. Visit Volcano National Park to see Mount Kilauea, an active volcano.
Kona
Explore beautiful tidal pools by foot or with snorkel. The sun always seems to shine on this part of the west side of the Big Island. Visit the Captain Cook Monument and the sacred Pu'uhonua o Honaunau.
Kauai
This is the land of rain forests, smooth, rounded mountains, cascading waterfalls and towering ocean cliffs. Visit the Fern Grotto and Spouting Horn. Careful, you may get wet. You must see Waimea Canyon to believe it.
Pricing starting from:
Inside             $2,675pp
Oceanview    $3,165pp
Balcony         $3,866pp
Read Ian's travel journal onboard this ship here
---
Ref: NCL 2016