SAVE! UPTO 10%*
A voyage specially-tailored for English-speaking travellers including discussions with experts, transfers before and after your cruise, and an included excursion in each port of call.
Engaging discussions onboard with two Smithsonian Journeys Experts, including art historian Aneta Georgievska-Shine and foreign correspondent Adam Tanner.
Discover six Mediterranean countries: Greece, Albania, Montenegro, Croatia and Italy.
Explore as many as six UNESCO World Heritage sites, spanning the millennia from the mythic past (Delphi) to the 20th century (Mostar).
Combine visits of historic cities with forays into the idyllic countryside.
Sample local wines in Albania and Croatia.
Experience the nightlife of Ploče and Dubrovnik.
Engage with the contemporary culture of these cities, towns, and villages as you discover their past.
In alliance with Smithsonian Journeys.
SMITHSONIAN JOURNEYS
Smithsonian Journeys is the travel program of the Smithsonian Institution, the world's largest museum, education and research complex, consisting of 21 museums, the National Zoological Park, education centers, research facilities, cultural centers, and libraries. Drawing on Smithsonian's resources dating back 175 years, these sailings will feature notable experts and experiences that embrace local cultures and dive deeper into a destination's history, cuisine, language, environment, and wildlife. For more than 50 years, Smithsonian Journeys has been rooted in and focused on cultural immersion and discovery – with a goal of inspiring guests to become global citizens through travel.
This cruise is part of a collection of PONANT voyages that are specially-tailored for English-speaking travellers who want to engage with the world. In addition to the usual elements of the PONANT experience, the listed price for these voyages includes transfers to and from the ship, talks and discussions aboard ship by world class experts, and a shore excursion or activity in each port of call that encourages guests to embrace the sights, sounds, tastes, and smells of the local environment and culture.
The eastern shore of the Adriatic Sea – the Dalmatian Coast – is rich in the culture and art of ancient, medieval, Renaissance, and Baroque worlds and home to some of the most charming and welcoming towns and villages to be found anywhere.
Your voyage begins when you depart Athens, transit the Corinth Canal, and arrive in the small port town of Itea the following morning. You may choose to visit Delphi, home of the oracle of Apollo, whose massive ruins dominate an entire hillside. Or travel to St. Lucas Monastery, which, like Delphi, is a UNESCO World Heritage site—one of the most important monuments of Middle Byzantine art and architecture in the world.
A cruise along the shores of the Ionian Sea brings you to the Albanian port of Sarandë, from which you may travel to the UNESCO World Heritage site of Butrint, whose ruins span 2,500 years and include the remains of a Greek acropolis, Roman theater, and 19th-century fortress.
Be on deck as Le Lyrial sails into the deep, fjord-like Bay of Kotor to reach the port town of the same name, also a UNESCO World Heritage site, located at the head of the bay beneath towering mountains. This delightful town is the pride of Montenegro, and you will have a full day to explore its richly varied history.
Set on a rocky peninsula jutting into the Adriatic Sea, Dubrovnik, despite a devastating earthquake in 1667 and the ravages of many wars, is one of Europe's best-preserved medieval cities and a designated UNESCO World Heritage site. Discover Dubrovnik's old city on a guided tour or visit the surrounding countryside before enjoying time at leisure to explore this marvelous city on your own in the evening.
The port of Ploče serves as your gateway to the Bosnian city of Mostar, which under the Ottoman Turks became a thriving administrative and cultural center. Severely damaged in the military conflict of the 1990s, the town was declared a World Heritage site and now showcases what the restoration work of UNESCO can accomplish.
During your time on the island of Hvar, tour the island's charming principal town. Or you may choose to visit a lavender farm in the countryside and enjoy some of the most beautiful views available along the Croatian coast.
Your journey comes to an end as your ship sails into Venice's famous lagoon.
Itinerary 
DATES: 17/09/2023 to 24/09/23
NOTE: A similar itinerary is also available from Venice to Athens departing 16/07/2024. Contact us for full cruise details.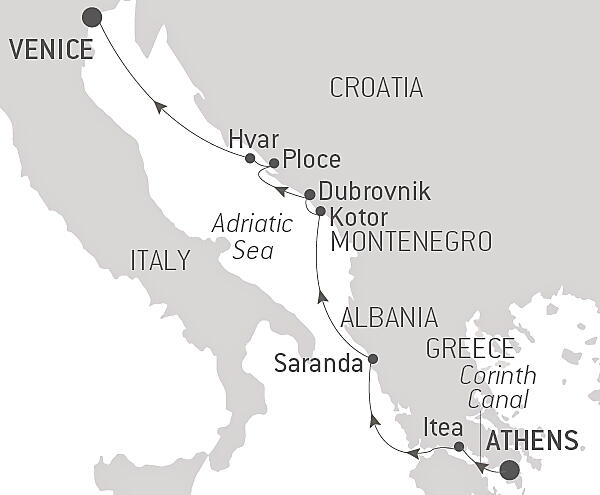 17 SEPTEMBER 2023 – ATHENS
Embarkation 17/09/2023 from 16:00 to 17:00
Departure 17/09/2023 at 18:00
The Greek capital city is located on the edge of the Saronic gulf, in the east of the country. It bears a plural name in reference to the first villages that surround the Acropolis. You will be enchanted by the rocky plateau presided by its monuments listed as UNESCO World Heritage. In the city below, you can visit some of the liveliest districts in Athens: Plaka, with its maze of colourful streets, and where, in the evenings the drifting aroma of moussaka and garlic prawns will tickle your taste buds. The National Archaeological museum and the Cycladic Art Museum are also some of the city's key attractions and allow visitors to discover Athens' cultural past.
17 SEPTEMBER 2023 – CROSSING THE CORINTH CANAL
Arrival 17/09/2023 evening
Departure 17/09/2023 late evening
The Corinth Canal cuts through the Isthmus of Corinth, turning the Peloponnese into an island as it separates the region from the Greek mainland. Inaugurated in 1893, the canal is a little over six kilometres long and enables merchant vessels and passenger to avoid a long 400-km detour around the peninsula. The two sides of the canal reach a height of approximately fifty metres. From the exterior decks, don't miss this unique opportunity to watch the ship as it navigates along the narrow strip of water encased between tall, ochre cliffs. What an experience!
18 SEPTEMBER 2023 – ITEA
Arrival 18/09/2023 early morning
Departure 18/09/2023 early afternoon
Tucked away in the Gulf of Corinth, this little port is situated in continental Greece, north-west of Athens. Take an easy stroll along the old cobblestone quays, while gazing at the summits encircling the Bay of Itea. We wouldn't be surprised if you are tempted by a visit to the Delphi Sanctuary. The sanctuary is located on a plateau on the slope of Mount Parnassus, just ten kilometres from Itea. A listed UNESCO World Heritage site, this is a once-in-a-lifetime experience whose ancient ruins are surrounded by steep mountains.
19 SEPTEMBER 2023 – SARANDA
Arrival 19/09/2023 early morning
Departure 19/09/2023 mid afternoon
An historical harbour town on the south-west coast of Albania, Saranda is built on a lush green spur. Its streets lined with palms and maritime pines border the beaches of the Ionian sea at the mouth of Corfu Strait. This very ancient town has archaeological ruins dating from Antiquity, which you can visit as you walk along the waterfront.
20 SEPTEMBER 2023 – KOTOR
Arrival 20/09/2023 early morning
Departure 20/09/2023 late afternoon
Situated in one of Montenegro's most beautiful bays, the medieval city of Kotor is a small town full of charm, truly imbued with the traditions and stories of another time. Built between the 12th and 14th centuries, this village, a UNESCO World Heritage Site, has preserved many historical monuments from this epoch. During your stop, be sure to admire the impressive castle that dominates the town, and let yourself fall under the charm of its maze of small streets and intimate squares on which folk festivals featuring magnificent colourful costumes are often organised.
21 SEPTEMBER 2023 – DUBROVNIK
Arrival 21/09/2023 late afternoon
Departure 21/09/2023 late evening
Emblem of the Dalmatian coast, Dubrovnik is magnificently positioned on a rocky spur. History is sovereign here, in this ancient city, now a listed UNESCO World Heritage site. You will perhaps be surprised by the proportions of La Placa, the central drag through the city. The sheer width of it can be explained by the fact that it straddles a former lagoon. The elegant houses along La Placa are built in the legendary travertine stone. At Pile gate, you will be greeted by the statue of the patron saint of Dubrovnik, and you can admire the coastline as you walk along the ramparts. But what's inside Fort Saint John, adjoining the outer walls? A maritime museum and an aquarium featuring rare fish from the Adriatic.
22 SEPTEMBER 2023 – PLOCE
Arrival 22/09/2023 early morning
Departure 22/09/2023 late evening
Ploče is a port that shares with nearby Makarska a reputation for great beaches, upscale seafront promenades, and a vibrant nightlife. Ploče's Rupe Ethnographic Museum and Markaska's intriguing Shell Museum are both worth a visit. Ploče also serves as a gateway to the Bosnian city of Mostar, which under the Ottoman Turks became a thriving administrative and cultural center. Severely damaged in the military conflict of the 1990s, the town was declared a World Heritage site and now showcases the graceful Stari Most ("Old Bridge"), originally built in 1566, and the early 17th-century Turkish Tabacica Mosque, both carefully restored with help from UNESCO.
23 SEPTEMBER 2023 – HVAR
Arrival 23/09/2023 early morning
Departure 23/09/2023 midday
Off the coast of Split, Hvar will surprise you by its traditions that have not changed since Antiquity. The country's oldest town, Stari Grad, is here on this Dalmatian Island. The town nestles by a cove on the north-west coast, surrounded by dry stone wall structures on the Stari Grad plains. These have been designated a UNESCO World Heritage site because they were built in the time of the Ancient Greeks.  From these parcels of land come wines and olive oil manufactured manually. In the upper part of town, it is possible to discover hams and cheeses made by local producers.
24 SEPTEMBER 2023 – VENICE
Arrival 24/09/2023 early morning
Disembarkation 24/09/2023 at 08:30
Proud and eternal, Venice has reigned on its lagoon ever since the 6th century. You may think you know this city before even setting foot here. You will inevitably fall in love with the charm of the innumerable treasures of the Serenissima: Saint Mark's square, the basilica, Doges palace, the Grand Canal and the gondolas. Yet, secret Venice is also waiting for you to explore its little interlacing streets and canals, to ramble through its squares and to push open the doors of its churches. The city's extraordinary heritage shouldn't stop you from enjoying a glass of Spritz and a few tramezzini.
Guest Speakers
ANETA GEORGIEVSKA-SHINE
Aneta Georgievska-Shine is a scholar of the Renaissance and the baroque eras, yet as an art historian, her interests range from ancient to contemporary art. In addition to her affiliation with the University of Maryland, she frequently presents lectures for museums and art institutions in the Washington D.C. area, including the Walters Art Museum, the Baltimore Museum of Art, the Virginia Museum of Fine Art, and the Smithsonian. Her publications include scholarly books and numerous articles in U.S. and international journals, as well as essays in exhibition catalogs.
A popular Smithsonian Journeys Expert, Aneta has led numerous journeys to France, Italy, Germany, the Netherlands, as well as Central and Eastern Europe. In addition to her art historical expertise, she brings a deep knowledge of the history, politics, and languages of Central and Eastern Europe. Aneta is a native speaker of Macedonian and has working knowledge of several other European languages.
ADAM TANNER
A writer and lecturer, who spent much of his career as a foreign correspondent, Adam Tanner has long studied the impact of colonialism, economic engagement,andglobalization, and is especially interested in the enduring impact of Europe on Asia, Latin America,and Africa.He has appeared on CNN, Bloomberg TV, NPR, and the BBC and written for publications such as Scientific America, Forbes, Fortune, Time,andMIT Technology. He is an associate at the Institute for Quantitative Social Science (IQSS) at Harvard University where he has been since 2011, first as a fellow at the Nieman Foundation, then at IQSS. He is also an expert on privacy and commerce and has written two books,What Stays in VegasandOur Bodies, Our Data.
Ship Information 
Le Lyrial
First introduced in 2015 and the fourth ship in the Sisterships series, Le Lyrial is the very embodiment of this new generation of intimately sized cruise ships. Its exterior and interior lines, all sober understatement and refinement, make it a yacht of a rare and innovative kind.
For the interior decoration, we took inspiration from the tones and colours of our destinations and used a palette made up of blues, from the soft, luminous grey-like tones of the polar ice to the vivid notes and turquoises of Mediterranean inlets and coves.
*T&C's apply to all discounts and promotions. Please contact us for full details.
Images courtesy of Ponant Cruises